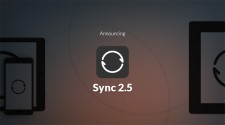 Resilio Sync 2.5 Home & Business updates for faster and easier file sharing
SAN FRANCISCO, Calif., May 24, 2017 (Newswire.com) - Resilio Inc., a leading provider of P2P file sync and share solutions, announced the release of Resilio Sync 2.5 for Home and Business customers. Resilio provides consumers with a military-grade encrypted file transfer, syncing, and sharing tool that is faster, safer, and more reliable than traditional cloud sharing platforms.
The highly anticipated release of Sync 2.5 delivers many exciting new features and improvements for individuals at home and teams in the office. Sync 2.5 is built to improve visibility into critical tasks with an enhanced user interface and improved history and logging, allowing the user to easily search and filter info on a specific file or folder. The 2.5 release also comes with a new One-Time Send for individual files, allowing users to easily share files versus sharing an entire folder or establishing a long-term connection between devices.
New Features in Resilio Sync 2.5
Send one or more files to multiple recipients without sharing the whole folder or creating a permanent sync connection. With Sync Home, you can send photos, videos, movies, or any other large file directly to friends. With Sync Business, you can send design documents, video files, VMs, logs, memory dumps, and more to co-workers, partners, and customers.
"The need to easily and seamlessly share large files across the Enterprise is more pressing than ever. We all know file sizes are not getting smaller, and collaborating on them grows more difficult by the day. Sync is the first solution to solve this problem without first demanding you send your files to the cloud," said Eric Klinker, CEO at Resilio.
WAN Accelerated Transfers
Sync 2.5 introduces WAN accelerated transfers, an alternative solution to products from Aspera and Signiant. As a natural multi-point / P2P solution, it's easy to mesh clients together and deliver unprecedented aggregate speeds to any number of locations. In a multi-point system, Sync is several times faster than any existing solution, and it doesn't require any additional hardware.
Easily view if a folder is synced or not to your device. When a folder is not synced, Resilio Sync provides a friendly icon explaining why.
Locked files cannot be synced when they are being used by common applications like Microsoft Office, Outlook, Adobe, and other apps... Resilio Sync 2.5 gives you the ability to see a list locked files being used by an application, and if applicable, tell Sync to ignore them.
The sync history view was greatly improved. Resilio added more events, view filters, sorting, and search capability. With a few clicks, you can now see all the recent errors & warnings, or see all the info related to a specific file.
More Efficient Data Transfers
Resilio enhanced the byte-level diff detection algorithm and added file-level deduplication capabilities. Sync is now the most efficient file syncing solution on the market. After all, the fastest data on your network is the data you never have to (re-)send.
Resilio Sync is perfect for individual consumers who don't want to rely on traditional cloud sharing platforms but want to create and own their "personal cloud." The user has complete control of who has access to their data with Sync's Read and Write sharing options.
"We've all witnessed numerous scandals where somebody hacks the cloud and gains access to everyone and anyone's sensitive data," said Brittany Wyre, PMM at Resilio.
Sync is especially ideal for the person who needs to sync files across multiple devices they own, the overly cautious security person, or someone who takes millions of pictures.
"This is where you hear stories like Miley Cyrus and other celebrities' public cloud accounts were hacked and personal photos leaked. What I love about Resilio is that it provides an additional layer of security with protecting its users, because your data is only stored on approved devices you own — not the public cloud," continued Wyre.
The workplace is constantly evolving and adjusting to the demands and trends of today. Start-ups, entrepreneurs, and small businesses use Sync to scale their services and products without breaking the bank. Resilio Sync is the pioneering application for growing companies to collaborate on projects that involve massive and dense files.
The remote workforce or "work from home" population is steadily increasing, and teams need reliable file sharing tools to collaborate no matter a user's location — whether working in the same office or in far distances across the world, Resilio Sync ensures everybody has access to files whenever and wherever they need it.
Announcing Sync Business Accelerator
The newest product Resilio is rolling out in parallel to the Sync 2.5 release is Sync Business Accelerator. The Business Accelerator is a must-have solution for scaling global business over poor or distant internet connections.
WAN Acceleration
Sync Business Accelerator uses a WAN optimized protocol to overcome network loss and latency to move large files at high speeds over a long distance or a lossy connection. The Business Accelerator is designed to transfer at speeds that are 100s of times faster than legacy transfer tools like ftp, http, and rsync.
One-Time Send With Business Accelerator
Combine the new One-Time Send with Business Accelerator for an amplified performance when you are sending massive files over slow internet connections.
Send huge media assets to collaborate on creative projects across offices
Customers can easily receive and digest large creative content
Move large log files and memory dumps across the globe
Guarantee that every large file is successfully sent to its final destination
About Resilio
Resilio Inc. is the leading peer-to-peer file transfer, syncing, and sharing solution for enterprises, start-ups, and individuals. The company was founded by veterans of networking, storage and security companies from BitTorrent, Check Point, Intel, Riverbed, and EMC.
Source: Resilio
Share: